Why choosing a U.S.-based transcription service matters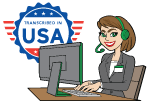 When choosing a company to provide medical, legal, or government transcription services, it is extremely important to consider whether the company will meet your needs and protect your information. If your organization is based in the U.S. and you are dealing with sensitive and confidential information, we strongly encourage using a transcription company that is also based in the U.S. and employs U.S. citizens.
Here are some questions to ask when looking into transcription services:
Business Location: Is the vendor and all of its workers based in the U.S.? Is all the work completed on-site by U.S. citizens?

Language: Do the transcriptionists have fluency in the language, spelling and meaning of the industry-specific terminology?

Secure Technology and Processes: Who can see your sensitive material? Do they have an encrypted dictation/transcription portal, secure email, secure fax, secure file sharing ability and any other necessary compliance controls? Have they completed the necessary security forms and received security clearance by the government? Speaking of security, we even just installed a U.S. curbside mailbox that locks!

Data Storage Location: Do you know where your data is being stored? Is the vendor insured?
Most transcription services are for medical or legal work that is highly sensitive, and contains information that must be protected.
For example, here in the U.S. we have the Health Insurance Portability and Accountability Act (HIPAA) as well as a host of state privacy rights; whereas transcribers in other countries may not comply with our privacy and patient confidentiality laws. These transcriptionists may not even know what standards of privacy are required.
In addition, some government agencies will only work with transcription services that have passed necessary security checks. These include SIG (Security Information Gathering report), SSAE 16 certification related to the dictation/transcription portal utilized, Detail Security report by Securityscorecard.com, Vendor Authentication and Encryption reports, CSS Tier 2 Assessment, WISP report, and the Pentest report.
If you would like further information and are interested in working with a U.S.-based company that has over 20 years of experience, please contact Brown & Meyers at 800-785-7505. We would be happy to provide you with trustworthy and secure medical, legal or government transcription services using only US citizens and completing all work within the U.S.