Poor transcription service causing you headaches?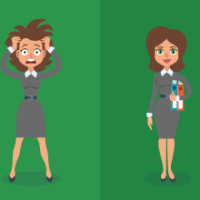 What's the deal with the cable guy? You call the cable company with an issue, and then you're placed on hold for 45 minutes, only to be told someone will be out next week in some 8 hour window of time. And although your basic needs are being met (it will get fixed eventually), the service experience was unsatisfactory. While most transcription companies promise to meet your basic needs and get the job done, it still comes with stress and uncertainty.
Handling transcriptions for medical, legal, and government is no joke. It needs to be done well, done right, and usually within a tight time frame. Add that to a busy schedule and it's a recipe for stress. Wouldn't it be great if someone would just take that off your plate so that you can move on with your day?
Your transcription company should absolutely be professional and get your transcriptions right the first time, but we know that it's customer care that separates a great experience from an aggravating one. The Brown & Meyers team thrives on providing personal service. There are no typing pools here, and our transcribers have accounts they know, and will reach out directly if they have a question. Your dedicated team member learns your transcription needs and nuances; you'll never have to waste time re-explaining what you need.
Brown & Meyers will address your inquiries and requests within an hour, so you don't have to wonder what's going on. This can take away the worry and unknown about what's happening with your confidential material.
Feeling better already? We thought you might! Give us a call or email kmeyers@brownmeyers.com to see how we can help ease the stress and woes of your transcription needs.