Stop the Pain! There's a Better Way to Transcribe Legal Recordings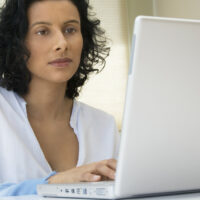 Transcribing audio and video recordings, interviews and caption reports is, let's face it, a painful endeavor for legal staff and an expensive use of resources within a law firm. Not only is the transcription process time-consuming, all the starts, stops and rewinds can frustrate even the most experienced typist. Brown & Meyers has been transcribing confidential information for the legal industry for years, increasing in-house productivity for our clients and allowing staff to focus on clients and billable hours.
Professional transcription increases accuracy and reduces stress
While it is reasonable to require legal staff to type depositions and summaries, hearing reports, litigation reports, legal briefs, recorded statements, interviews and caption reports, it may not be in the firm's best interest for them to do so.
Transcription professionals minimize error and maximize profitability by accurately transcribing dictated information in a timely manner – often within 24 hours – thus freeing the legal professionals to focus on activities that improve client relationships and generate more billable hours.
Partnering with and trusting Brown & Meyers to type up and digitize this sensitive and important information is a smart business decision.
Along with the everyday work product of attorneys, we have also transcribed closed court hearings, FBI wiretaps, and grand jury testimony.
Transcriptionists are carefully selected and trained in Attorney/Client Privilege
As a SSAE 16-certified company, Brown & Meyers ensures the integrity of our workforce by requiring employees and independent contractors to undergo background checks before being hired. Additionally, we require employees and independent contractors, many of whom are out-of-state, which is an additional safeguard for confidentiality, to sign confidentiality agreements as a condition of employment. Finally, after a thorough hiring process, we train all of our employees to understand the Attorney/Client Privilege and to maintain confidentiality.
Brown & Meyers' services include:
Dictation by phone, digital recorder, smart phone or tablet
Personal secure online web portal
Secure document delivery
Customized document style templates
Online access to your files available 24/7
Secure and Encrypted File Management
Brown & Meyers' secure and encrypted audio file management system takes your recordings and turns them into a typed document. We process hundreds of legal reports weekly and ease the typing burden on the administrative and paralegal staff of many law firms. Here's what one client had to say about Brown & Meyers' transcription service:
"We have utilized Brown & Meyers in the past for transcription of Workers'
Compensation hearings and have been completely satisfied with the quality and turnaround time. We have always experienced the utmost in personal service from Brown & Meyers and will continue to use them in the future."
– Rebecca Durgin, Administrative Staff Lead, Verrill Dana, Portland, ME
For more information about our legal transcription services, contact Brown & Meyers at 1-800-785-7505 or e-mail us at Info@BrownMeyers.com.