WBE Certification – How can it help YOUR business?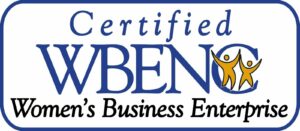 Brown & Meyers, Inc. takes great pride being a WBE-Certified company and often encourages companies to partner with us as a tool to obtain government contracts that have a WBE set-aside component. However, as an individual reading this, you may not know what a WBE certified company is, and what the benefits are to being certified.  I have compiled a list of frequently asked questions
What does WBE stand for?
WBE is an acronym for Women's Business Enterprise.
What is a WBE-Certification?
WBE Certification stands for Woman Business Enterprise and denotes that a woman (or women) has majority ownership and control of a business entity.
Why is WBE Certification Important?
First, most local and national government purchasing agencies track and/or have programs for doing business with women business owners.  Having WBE Certification is the only way the purchasing agents have confidence that a business representing itself as woman-owned is, in fact, woman-owned and controlled.
Second, many publicly-held corporations, as well as larger private corporations, also track and have programs for doing business with women-owned vendor companies.  They, too, rely on WBE Certificaiton.
What benefits come from a WBE-Certification?
Since 1997, the WBENC has been operating as a non-profit organization that certifies women-owned and operated businesses all over the United States.  As a certified company, you are entitled to some great benefits.  For example, you may be eligible to take executive education programs or other training classes.  Your business may be placed in a research study to keep track of trends in our current economic environment.  Companies who are not WBE-Certified may wish to partner with you as a vendor because of your certification.  This is a great way to increase revenue!
How does my company become WBE-Certified?
First and foremost, your company has to be owned and operated by a woman, or women who are legal U.S. residents.  You can apply for certification if you're a President who is an active member of daily management and has been for at least 6 months.  If you meet the criteria listed on the WBENC website, then you are encouraged to fill out the application.  Once filled out, the review process begins.  This takes some time, so please be patient!  You'll be emailed every step of the way as your application goes through the process.